For Immediate Release
MARKOW & NORRIS
TWO ARTISTS: ONE INTERWOVEN ARTISTIC VISION
AN UNPRECEDENTED EXHIBITION COMES TO RICHMOND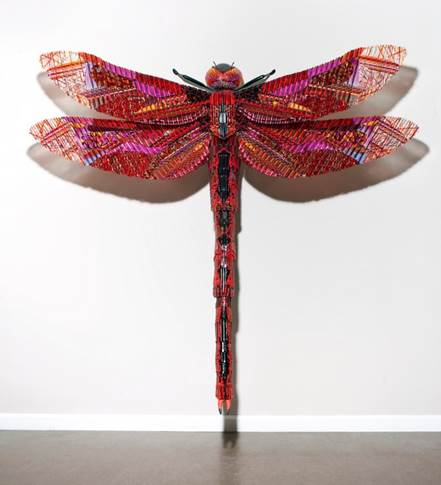 Image: Red Dragonfly
Richmond, VA – March 3, 2014: Distinguished artist duo, Eric Markow and Thom Norris, will be exhibiting an unprecedented collection of work at Chasen Galleries in Richmond, Virginia. The exhibition premiers with an evening reception on April 3rd and extends through April 30th, 2014. This exquisite Collection of museum-quality glass artistry will be on exhibition and available for acquisition. Markow and Norris, spouses and professional collaborators for over twenty-years, are the originators of a revolutionary artistic technique known as glass weaving, a design process extraordinary in conception, inexplicable in form, and remaining proprietary as to the "How?" The Artists' remain silent, fostering and furthering their uniqueness and mystique.
CBS SUNDAY MORNING: http://www.youtube.com/watch?v=TK_aoxXDeQQ
The secrets of these "Seemingly impossible woven textures of glass" will never be revealed by Markow & Norris, in keeping with the tradition of secrecy of technique dating back to medieval times. http://wovenglass.com
Their iconic mastery of their art form has elevated the genre significantly and their extraordinary works are housed in corporate collections, important private collections, and highly-regarded and venerable fine art galleries throughout the United States and abroad. (Exhibition & Gallery lists available upon request.)
"What helped, we always joke, is that we didn't know we couldn't do it," asserts Norris." While their humor embodies ideas of initiation, chance, and practice — as most success stories embrace– it would be remiss to overlook the fact that both men exhibited their own brilliant nature in their early academic pursuits, as well as their worldly interests and natural insight. With respective backgrounds in chemical engineering and biology, Eric Markow and Thom Norris are famous for uniting science and art in a delicately choreographed process of manipulating blazing glass into seemingly impossible sculptures that break boundaries and challenge the laws of physics.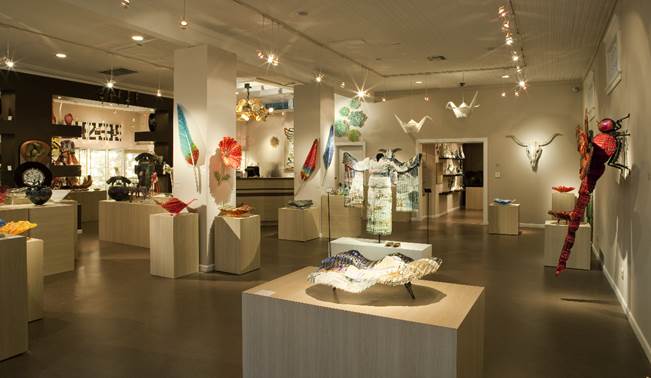 Image: Gallery Presentation – 2010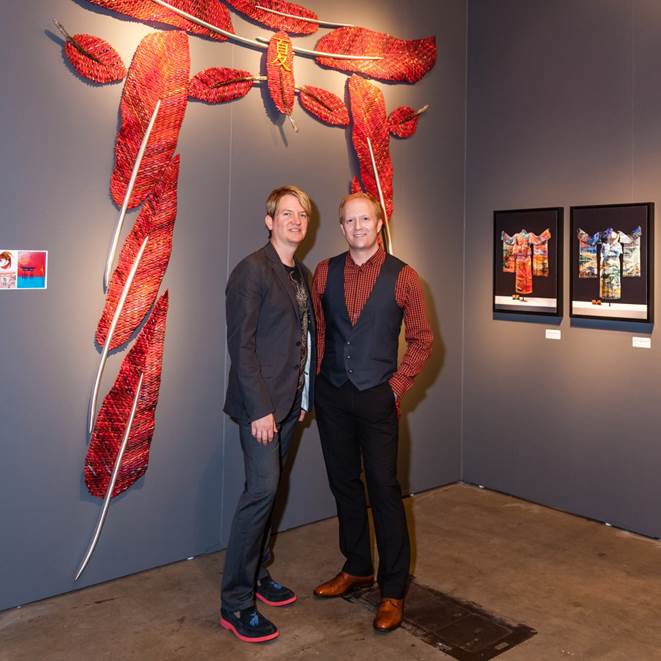 Image Above: Artist Eric Markow and Thom Norris
The Markow & Norris technique of woven glass may be described as complicated, with exhaustive steps that require precision in timing and temperature. Demand for their work has never been greater. "We have had a 4-6 month waiting list for almost 8 years now. There has not been a single moment in the past 10 years that our kilns were not busy polishing sculpture that was either already sold or being prepared for an upcoming exhibit. We feel very grateful and fortunate that our sculpture has been received by collectors so warmly," Norris states.
Markow adds: "I love that Thom and I work in partnership to create these amazing pieces. We do what we love together. We weave our individual talents into every piece and it makes each sculpture that is seemingly impossible, possible. We could not make these pieces on our own."
Markow & Norris have made it easy to get lost in their colorful designs, so vibrant and mesmerizing in subject. The endless details and flawless assembly are not only alluring in beauty, but thought provoking as well. This powerful pair began their artistic careers with a playful curiosity that they have refined as an envied skill framed in style, imagination, and exquisiteness.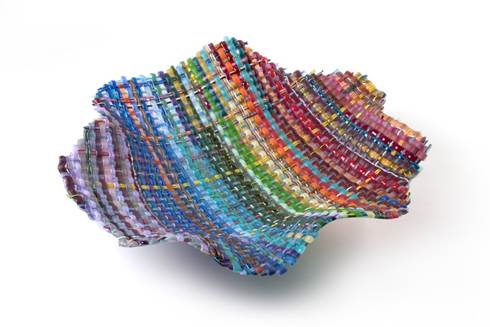 Image Above: Confetti
Since their debut in 2003, the enigmatic duo of Markow & Norris have taken the art world by storm with their revolutionary woven glass sculptures that continue to bewilder gallerists and art critics alike.
Markow & Norris, the premiere woven glass artists in the world, have been heralded as so in press and media outlets throughout the world, and have exhibited their work in New York, Chicago, Miami, Philadelphia, Washington, DC and the world's finest galleries. They are thrilled to be exhibiting in Richmond; Hometown boy exhibits in the city in which he grew up… Eric Markow is that hometown boy.
Every Markow & Norris piece is rare, handmade in the artists' studio to be a one of a kind heirloom.

Their Iconic Signature
For more information on Markow & Norris, their unique woven glass art or to request collector's information please visit www.wovenglass.com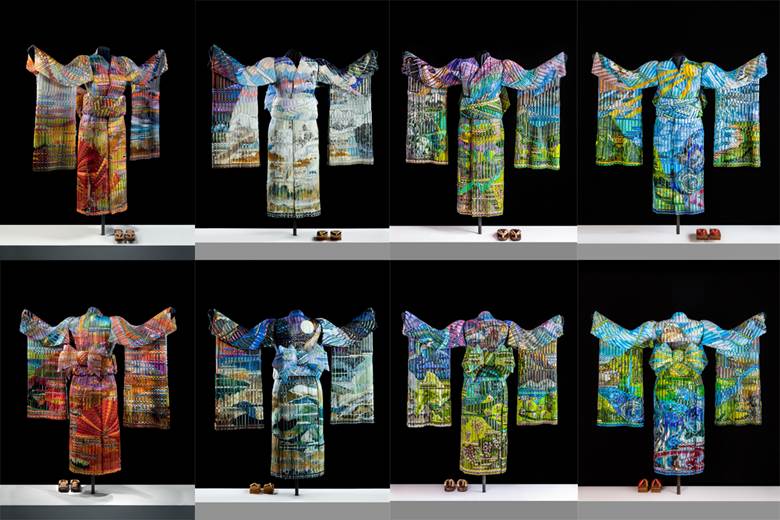 Image Above: Kimono Series – The largest woven glass sculptures in the world, consisting of four life-size kimonos: Autumn Sunset, Winter Twilight, Spring Dawn and Summer Zenith.
Artwork is available for acquisition and all appearances are open to the public; with a Meet the Artist reception on Thursday, April 3rd, 2014 from 5:30-8:30 pm.
Website: www.chasengalleries.com
RSVP Telephone: 804.204.1048 (RSVP) or jeff@nullchasengalleries-rva.com
COMPLIMENTARY TO THE PUBLIC – RSVP'S REQUIRED
Where: Chasen Galleries
3554 West Cary Street
Richmond, Virginia 23221
804.204.1048
When: Opening Receptions with Markow & Norris
Thursday, April 3, 2014 – 5:30 – 8:30 pm
Dates: ART ON EXHIBITION AND AVAILABLE FOR ACQUISITION
April 3 through April 30, 2014
About Chasen Galleries:
Chasen Galleries is proud to showcase the work of the world's most collectible contemporary artists. We represent established highly sought-after artists as well as newly emerging artists. Our works of art range in style from landscape to abstract to conceptual.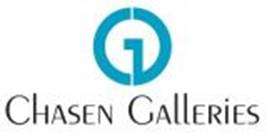 MEDIA INTERVIEWS are coordinated by:
Allison Zucker-Perelman
Relevant Communications
allison@nullrelevantcommunications.net 561.715.9525
A full biography, b-roll, video clips and 300 dpi photography are available upon request @ allison@nullrelevantcommunications.net